Constant Companions (2023)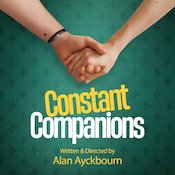 To navigate, use the links in the bar above or in the right hand column.


World Premiere:
12 September 2023

Venue:
Stephen Joseph Theatre, Scarborough

London Premiere:
N/A

Venue:
N/A


Play Number:
89

Published:
No

Other Media:
No


Short Synopsis:
Lorraine is a fabulously successful lawyer of a certain age. Jan Sixty is the janitor of her building, an android of indeterminate age. In a not-too-distant future humans have turned to artificial friends for companionship without compromise, can Lorraine and Jan find true love?


Availability
Amateur:
Not currently available for amateur performance.

Professional:
Not currently available for professional production.
All research and original material in the Constant Companions section of Alan Ayckbourn's Official Website is by Simon Murgatroyd M.A. and copyright of Haydonning Ltd. All other material is copyright of the named copyright holder. Please do not reproduce any material without permission of the copyright holder. For enquiries, email: archive@alanayckbourn.net